Welcome to Lee County Bar Association!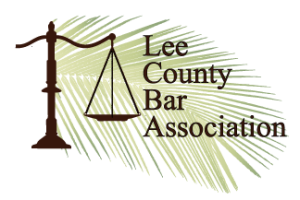 Established in 1949, the Lee County Bar Association was formed as a voluntary organization of attorneys living and working in Lee County, Florida.Since its founding, the membership has grown to nearly 800, and includes attorneys in adjacent counties whose clients have business and court issues in Lee County.The purpose of the organization is to further the education of its members, create meaningful interaction among its members, and to inform the community on important legal matters.The Lee County Bar Association supports the citizens of Lee County in many ways, including but not limited to:
Free legal clinics on important topics of local interest
Promotes the Rule of Law with student programs such as Moot Court and annual Mock Trial competitions, and School Speakers for Constitution Week
Provides a Lawyer Referral Service to connect the public with qualified attorneys 
Our Mission
We strive to serve as a leader in advancing ethical conduct, excellence, and the professionalism of our attorneys by providing ongoing legal education in support of our members, fostering an environment of public responsibility among legal professionals and promoting our legal system and resources within our community. 
Diversity Statement
In principle and in practice, the Lee County Bar Association values and seeks diverse and inclusive participation within the legal profession, as well as our own Association. The Lee County Bar Association promotes involvement and access to leadership opportunity to all members regardless of race, ethnicity, gender, sexual orientation, religion, age, nationality or disability. 
ADA Statement of the Lee County Bar Association, Fort Myers, Florida:
It is the policy of the Lee County Bar Association to hold meetings only in those facilities that do not discriminate on the basis of race, gender, sexual orientation, national origin, physical or mental disability or religion.  The Association will engage in a good-faith interactive process with any employee, prospective employee, member or invitee to determine if a reasonable accommodation is needed and will make reasonable efforts to provide such accommodations.  Any requests for accommodation should be directed to the Executive Director of the Lee County Bar Association, Sharon Brotherton at [email protected]